Overview
The dual-monitor display feature allows the video layout and screen share content to be placed on two separate monitors/screens. Gallery or speaker view can be displayed on one monitor while the other monitor displays a content share. This is useful for PPT presentations and hiding notes from the participants.
Prerequisites
Zoom desktop client for Windows, Mac, or Linux
Dual monitors enabled on your system
CPU: i5+ Quad-Core (or higher) | i5+ Duo Core (or higher) 2GHz+
RAM: 4GB+
Note: Review the following documentation on configuring dual monitors.
To enable dual monitors feature in Zoom, open the Zoom application and select your profile picture found on the top left of your screen. From here, select Settings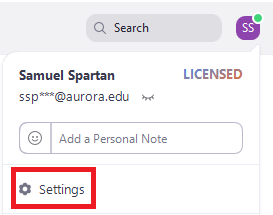 Next, click on General found on the left, click the Dual Monitors check box to turn this feature on

When you start a zoom session you will now have to ability to place participant video on your other monitor. If you would like to see how to share a PowerPoint screen please continue on to the next step.
In PowerPoint, select the Slideshow tab then select Set Up Slide Show

Once you are in the Set Up Slide Show select Browsed by an individual (window) and select OK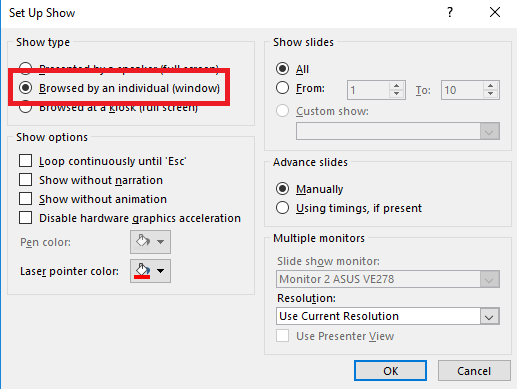 From here you can now begin your slide show by selecting "From Beginning"
You can now drag and drop your PowerPoint window to either screen.
Navigate back over to Zoom and select Screen Share be sure to share the entire screen which has the PowerPoint... either Screen 1 or Screen 2 if you are going to be sharing a video select Share computer sound and Optimize Screen Sharing for Video Clip.

If you would like to advance your PowerPoint slide be sure to click on the PowerPoint window to make the application active. If you do any action in zoom you will have to click on the PowerPoint in order to advance any slides.
If you have any questions or require any assistance please contact itshelp@aurora.edu or call 630-844-5790.