The security button in Zoom now allows users to control some of the more common security settings right from the toolbar.

Lock Meeting:
The lock meeting feature, when enabled, prevents new participants from joining the meeting. This is useful when you have all of your participants present and you don't require anyone else to join.
Enable Waiting Room:
Waiting rooms are a separate room isolated from the meeting. Only the host may invite participants into the meeting from the waiting room. This is useful when you are starting your meeting and would like to screen everyone before allowing them to join.
To learn more about waiting rooms, see our documentation here: Using Zoom Waiting Rooms
Share Screen:
This feature allows users other than the host to share their screen.
To learn more about screen sharing, see our documentation here: Screen Sharing in Zoom
Chat:
Enabling this feature will allow users to chat with each other. Please note, users can decide to send chats to everyone or to chat privately with other users.
In the chat window (which can be viewed by clicking the "Chat" button in the center of the toolbar), additional settings may be changed by clicking

to only allow public messages, messages to everyone, etc.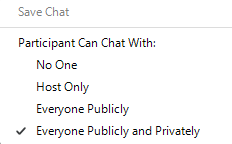 Rename Themselves:
The feature, when enabled, allows users to change how their name appears to the rest of the group.