With Microsoft OneDrive, you can share files and folders with others for easier collaboration. By default, the files on OneDrive are private until you share them.
1. Go to aurorauniversity.okta.com and log in with your Office 365 account by opening the app from your Okta dashboard. From the Office 365 home page, click the Apps button or the App Launcher button, then click the OneDrive app.
2. Choose the file(s) or folder(s) you want to share.
a. If you are using List view, select the circle on the left side of the item. You can also select multiple items to share them together.
b. If you are using Tiles view, select the circle in the top right corner of the item. You can also select multiple items to share them together.
3. Click Share
at the top of the page.
4. A pop-up appears for the file or folder. Select the gear icon for Settings.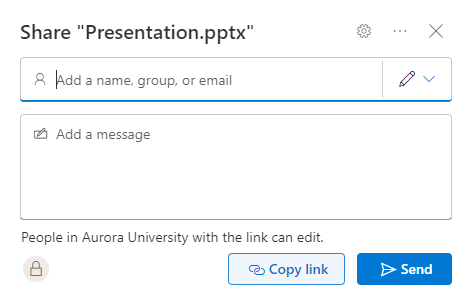 5. The sharing settings menu opens.
a. Select People in Aurora University if you want to share with anyone in Aurora University. Only people with the shared link can access the item but keep in mind that people you share with can forward the link to others in the university for access.
b. Select People with existing access if you want to re-share with people who already have access. It does not change any permissions but it is convenient as it maintains the permissions of an item without granting any additional access.
c. Select People you choose if you want to share with specific people at Aurora University. Others will not have access. If people forward the shared link, only people who already have access to the item will be able to use the link.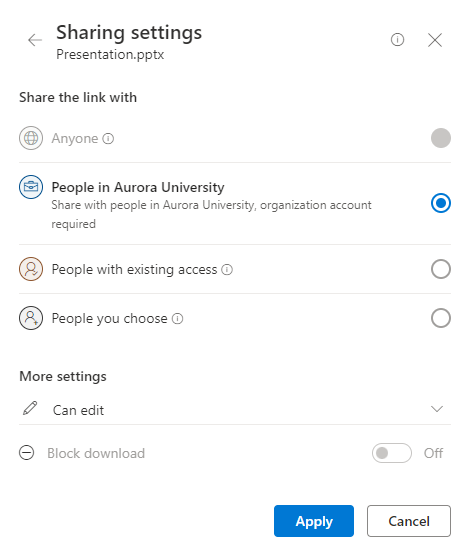 6. Under the More settings header, click the drop-down menu to change viewing and editing permissions if needed, and once complete, click the Apply button to save changes.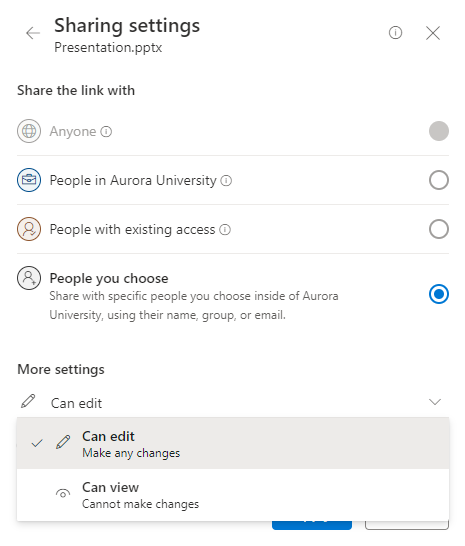 7. Next, add the recipients by email address. Recognized accounts will automatically populate as you type.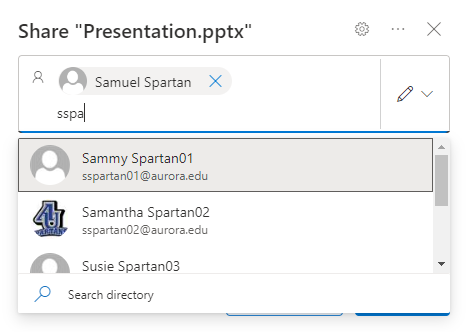 8. If you choose to send an email invitation to recipients to access your shared file or folder, you can optionally add a message and then click Send. If you do not want to send an email but would like to share your file or folder, click the Copy link button instead.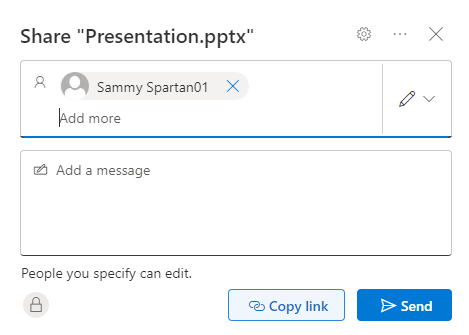 9. Paste the link and send it where you would like, such as an email, message, or post. If you clicked the Send button and shared the file or folder via email, your recipients will receive an email invitation to access the item shortly after.